so, what i thought was going to be a gutsy leap back into seeing art has resulted in me being ill.
DRAG!
but i've still managed to get excited about a few cool music thangs lately.
and one exhibition. i know, i'm supposed to be an artist. pfft!
last week i went to see the show at TCB by nic tammens. i like nic – he's a cool guy. and if he's not super big famous real soon, well, i don't know who will be. lucky i like his work or i'd be extra jealous 🙂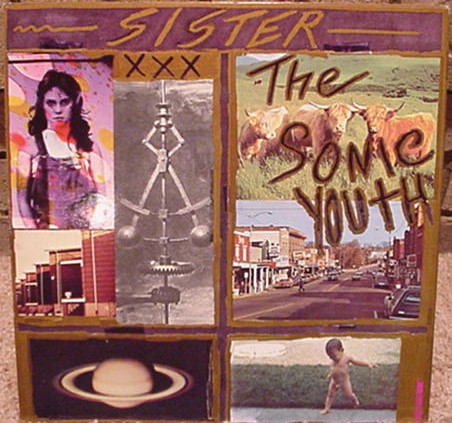 there was one work in particular that i liked – sister. it was the photographic documentation of a recent record purchased by nic and its murky legal past. the record, sister, by sonic youth (1987)
i'm a sucker for a conceptual piece at the best of times, but combine it with music nerdism, copyright controversy and sharp execution, and i'm sold.
the key to the puzzle was actually the room sheet you picked up when you walked in. (or didn't, as a few of my friends didn't). it outlined the cease and desist order from richard avedon's legal team.
richard is the copyright holder of the image in the top left of the rekkid there (the girl with the spots). in the first pressing, sonic youth didn't seek permission and/or licence for it, so it was recalled.
geffen/sonic youth reprinted, re-released and the cover we all know and love became the cover we all know and love. and richard's nickers went back to a state of untwistedness.
nic's installation includes a large, mounted photograph of a limited edition LP version of the recalled cover, released by flying nun records that he purchased for a cheap-ez $100 in hobart last year.
not just a boasting 'look what i got' (although i would argue that it's a justifiable chunk of it), the work obviously raises the copyright issue again, in the light of 21st century, megaupload, remix culture-ness. i'm all for it.
it also highlights that action of fanaticism and otaku that happens with collecting vinyl and musical obsession.
the rest of the works i'd seen before at VCA and i chose to ignore the remnants of some wacky lobster tank thing (for reasons of cynicism, squeamishness and weariness). and whilst the whole install was solid but save, this work was the clincher for me and made my night.
image credit: pinched from the sonic youth site
thanks for subscribing to she sees red by lauren brown. xx